Saturday adventure! --
Last Saturday, Johann and I finally got the chance to visit the Salcedo Weekend Market. We were so excited -- we woke up early and formulated our plan of attack. We had a really light breakfast in anticipation of all the goodies that we would buy at the Market --
We got there at around 9 and it was bustling!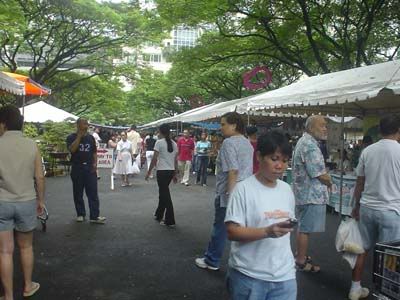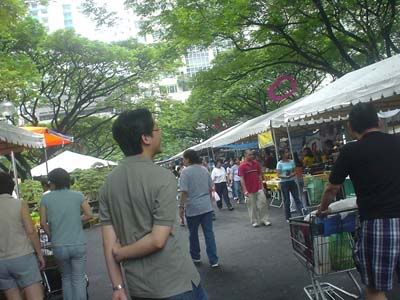 We went around once just to familiarize ourselves with the layout and a second time to try to see what we would be having for lunch.
There was so much to choose from! >_<
We settled on the Cebu lechon because it looked so yummy --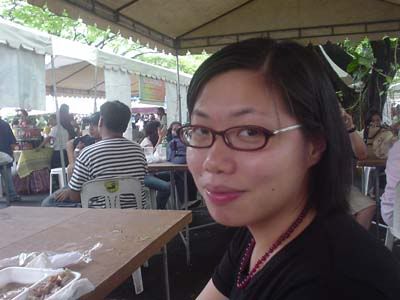 We also bought maki, which we munched on while walking around.
I fell in love with the organic mushrooms and tomatoes! I wanted to purchase a bag of each, but we still had a number of errands after Salcedo.
We purchased this bread right before we left and served it to friends when we got home: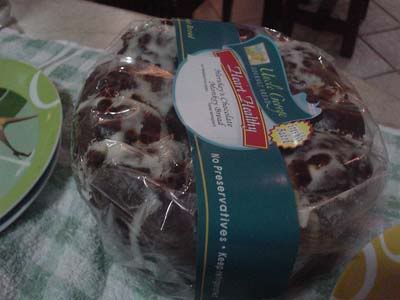 Johann and I are definitely going back (and we might drag my youngest bro with us) --
On our list of must-try:
- Angus beef (PhP150 for every 100g, served with all sorts of goodies)
- Pork Barbecue (which smelled sooooooo goooooooood)
- hot dogs (unlimited condiments and relish -- yummmmm)
- bagels from the New York Bagel Company
- hummus
etc etc
After Salcedo, we took a cab to Mile Long because my brother was craving Melonpan (curse those episodes of
Yakitate Japan
) -- there's a Japanese food store there called Co-Op where everything is PhP75. They didn't have Melonpan, but we did get a really great selection of bread for my brother.
Our errands took us to
Makati Cinema Square
and to Greenbelt (we got a gift certificate to a Foot Spa from
The Spa
, unfortunately, they were booked until late that afternoon and we didn't have the time to wait) and finally to Handyman in Pioneer.
The Handyman branch in Pioneer has a carpentry center where you can have furniture (wooden pieces) made -- you pay for the cost of the materials and labor and *poof* in a week or two, you will have a piece custom-made according to your preference.
We had our bookshelves done there -- and we're getting them in a week. (Finally! T_T) and it costs 1/6 of the last quotation we got from a carpenter. (Yay to the pennypinchers!)
* * *
Finished Reading --
Audrey Niffeneger's
The Time Traveler's Wife
today. (Thanks Gabs for lending it to me) --
Funny thing was, I decided to read it while I was proctoring the En10 exam -- I started getting teary-eyed as I was reading and I had to contain myself because I was in front of my class.
It's a lovely book -- ^_^